The Picturedrome
The Picturedrome, in Kings Arms Street, North Walsham, was opened in 1912 by Henry Nixon who had leased the building from John Dixon. The lease entitled John Dixon free use of two seats for himself or his family at all performances. He was also the organist and choir master for North Walsham St. Nicholas Parish Church at the time and he would give free tickets for the Picturedrome to his choirboys to encourage them to turn up to sing in the choir. The managers were Harold and Lydia Coates. Lydia Coates was pianist for the silent movies. There was one show each night, with two changes of film each week.
The Picturedrome generated its own electricity, thanks to a 'Gas Engine & Dynamo House' situated just ten feet behind the auditorium, and was brilliantly lit both outside and inside. The business existed until The Regal opened on 7th. September, 1931 and closed just one week later.
In 1939, the building was taken over by the Army as the mess hall for D Company, 5th Battalion, Norfolk Regiment. Horace Seaman, who was Company Clerk , was one of a group who organised Friday night dances and there he met Gladys who he later married. Built as a cinema, the floor sloped and the dancers went down the right side and up the left.
The building was later used for retail, most recently a carpet showroom. It was demolished in 2006 and its site is now occupied by flats.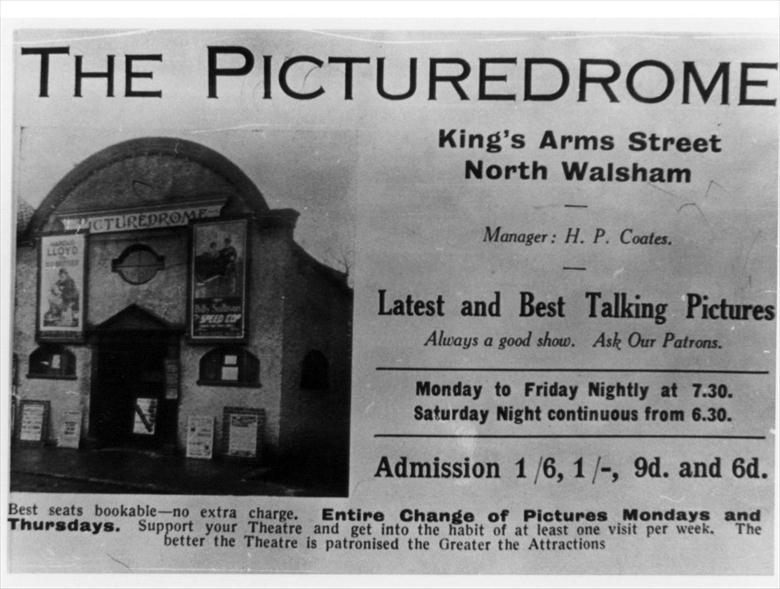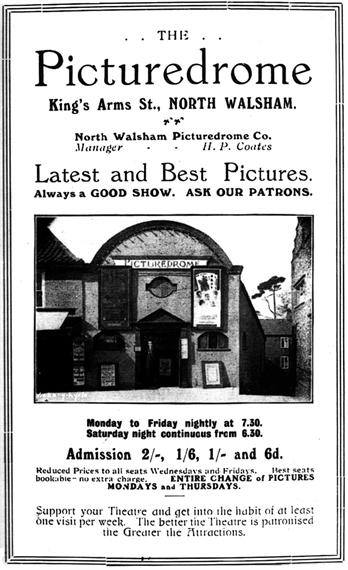 Regal cinema
Thomas Gill & Sons built the Regal for £3,000 and when it was opened the first film shown was 'A Warm Corner' (1927) starring Leslie Henson. Seating 585 people, it was the first 'picture house' in Norfolk specifically designed and built for 'talking pictures' by the region's newest cinema entrepreneur Victor Harrison. The architect was J. Owen Bond. Crotch & Sons, Norwich decorative plasterers, were responsible for the Egyptian style interior motifs with a ceiling of terra-cotta lotus flowers in orange, blue and green.
The Regal closed on 19th August 1978 leaving the town without a cinema, although The Atrium now shows films occasionally.
The building was then used as a bingo hall and then later converted to retail use when it became a showroom for North Walsham Plant Hire. Louis Arthur Court now stands on this site