William Paston
One of the most prominent individual in the town's history is Sir William Paston. William, son of Erasmus Paston and Margaret Windham of Felbrigg who was knighted 22 August in 1578.
Paston was educated at Gonville Hall, Cambridge, in 1546. In 1554 he inherited his father's lands and that of his uncle, Clement Paston who held the estate of Oxnead. He became one of the wealthiest men in Norfolk. He was Sheriff of Norfolk and Suffolk between 1565 and 1556
In 1600 a great fire destroyed much of North Walsham but provided the opportunity for William to purchase a plot of land in Churchgate, south of the market, on which to build his school founded North Walsham Grammar School in 1606
He also provided an endowment for continuation of the school after his death and for a weekly preacher at the Thursday Market
In 1607 William Paston commissioned his ornate tomb here in St Nicholas Church at the cost of £200. This vast monument was completed two years before his death in 1610. His wife's remains were transferred from Paston Church and placed with his.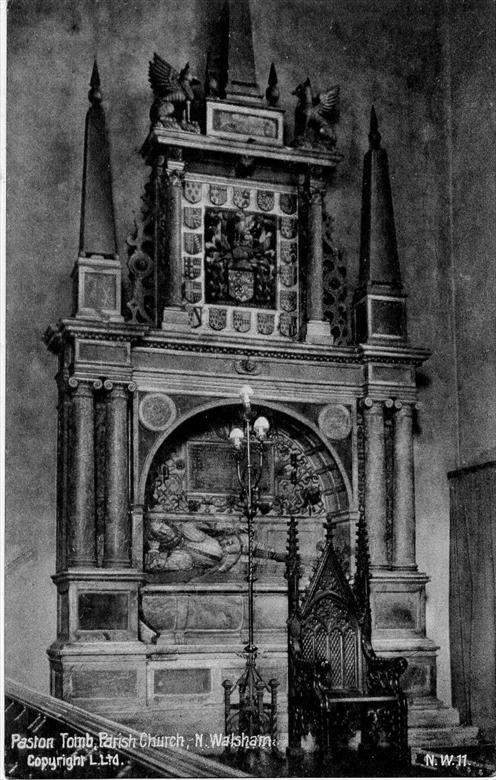 The Paston letters
The Paston Letters are commonly supposed to date from 1418 until 1509, and this is the period for which they are most often used as a resource when studying social history, English medieval literature, paper-making or even watermarks.
They are almost unique in consisting of over 1,000 letters covering the whole of that period, during which the Pastons rose from being a poor peasant family in a very small village in North Norfolk to being great landowners, one of the four greatest landowners in Norfolk and courtiers at the court of King Henry.
The last letter in 1509 indeed contains not only an invitation to the marriage of Prince Arthur and Katherine of Aragon but also a long description of the Field of the Cloth of Gold, the best contemporary description there is of that momentous occasion

The Paston family were also unique in their time by living right through one of the worst civil wars in this country, the Wars of the Roses, and coming out not only unscathed but richer.
Not one of them died in battle, although they fought in many of the battles and for all the kings. They fought for Henry VI, Edward IV, Richard III and then served in the court of Henry VII, because they were adept at doing what has been called 'turncoating', that is, they wore their livery on one side only, and if that side failed, they managed to get into hiding long enough to turn their coats and get a pardon from the King.
This sounds rather deceitful and dishonourable to us, but it was a common way of carrying on at the time and it was key to raising the manpower to fight the many battles of the Wars of the Roses.
Paston Footprints  
This exciting project is subject to an Heritage Lottery Fund application and is led by the Paston Heritage Society with the University of East Anglia and involves a number of core partners including the Norfolk Record Office, The Norfolk Heraldry Society, Norfolk Libraries, Community Action Norfolk and Norfolk Fit Together Walks.
The Footprints Project aims to uncover and to make accessible more of the remarkable story of Norfolk's Paston Family and their world famous letters. The Footprints project also aims to link the information in the Paston Letters with 10 key centres in Norfolk. (Paston, Bacton, North Walsham, Gresham and Mannington, Oxnead, Blofield, Caister and Mautby, Hellesdon, Dereham and Norwich).
A second aim of the project is to digitise two other collections of Paston Letters held by the Norfolk Record Office. Other digital projects include 3D simulation 'walk through' images of key Paston buildings and local churches, exhibitions and web based resources.
Their third aim is to celebrate the 600th anniversary of the first Paston letter of 1418 and to link this celebration with a major art exhibition, staged by the University of Yale, USA and the Norwich Castle Museum, which will focus on the famous Paston Treasure painting.
Rob Knee, co-leader of Paston Heritage Society stated "Please do join us and fill one of our many different volunteer roles in this exciting and unique opportunity to bring alive a major part of the Norfolk's history.
Contact us through our web sites www.pastonheritage.co.uk , www.thisispaston.co.uk or email; PastonFootprints600@gmail.com.