As well as the fixed defences protecting the town, there was also an Auxiliary unit. These were specially trained, highly secret groups of volunteers created with the aim of resisting the expected occupation by Germany. Their mission was to be Britain's last ditch line of defence, operating from hidden underground bases. These guerrilla units, sometimes referred to as a British Resistance Organisation, were initiated by Winston Churchill in the early summer of 1940. The North Walsham patrol was made up of;
Sgt Fredrick Kidman, The Farm, Norwich Road (aged 33 in 1940)
Cpl Frank Nicholas Tofts, Heath Farm, Norwich Road (aged 39)
Thomas John Durrant Bell, North Walsham Road, Bradfield (aged 29)
Wallace Charles Hannant, The Bungalow, Station Road (aged 35)
William Hicks, 14, Bacton Road. (aged 36)
Alfred Barritt, 78 Norwich Road. (aged 35)
Their hidden, underground base was in Westwick Woods about 20 metres from the northern edge of the woodland.
The entrance was a drop-down shaft, with a small room and the main chamber, which was a buried Anderson shelter constructed by patrol members in the farmyard at Heath Farm and then carted across the fields to the site. An emergency escape tunnel emerged about 18 metres away, running in a zigzag course. This was constructed from 40-gallon oil drums with tops and bottoms removed and arranged so that they would form a tunnel.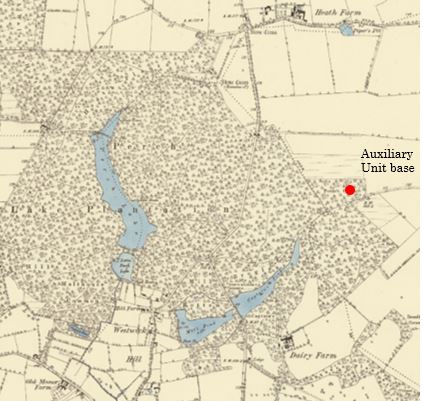 Their role following an invasion would initially have been to lay low and then to emerge to attack enemy targets in the area, such as enemy use of RAF Coltishall or passing traffic on the Norwich Road.
Their life expectancy in this role was expected to be short. In the event their role was not required, but it was brave step to have volunteered