George McLean was born in Swaffham, Cambridgeshire, c.1847. By the time of the Census of 1871 George, aged 24 yrs, was living in Market Street, North Walsham and listed as a Photographer and Stationer.
In the 1881 Census, he was listed in Market Place, North Walsham as a 'Manufacturer and photographer'. On his photographs he is listed as an 'Artist & Photographer' and in the records is described as combining his photographer's studio with a 'fancy repository'. At that time he was living with his wife Jane, but he died shortly thereafter, in 1882.
From 1883, his widow, Mrs Jane McLean, was listed at the Market Place in North Walsham as a Bookseller & Stationer. And from 1890 up until 1892 she was listed as a mineral water manufacturer.
In the 1891 Census she is also recorded as a photographer. A 'carte' mount of the late 1880s or early 1890s says that J. McLean specialises in "Large Groups and All branches of outdoor Photography".
Typical photographs from the Jane McLean studio. Subjects unknown.
In the 1891 Census, Laurence George McLean, aged 19 yrs, is living with his widowed mother and is listed as a mineral water manufacturer.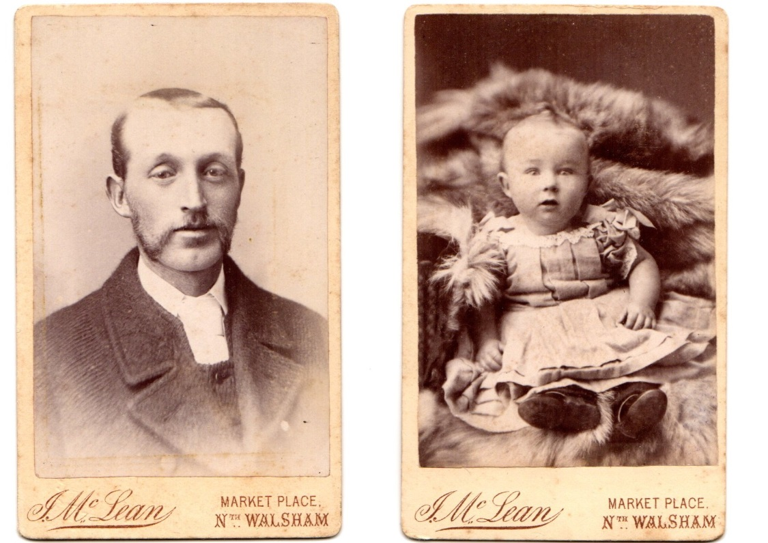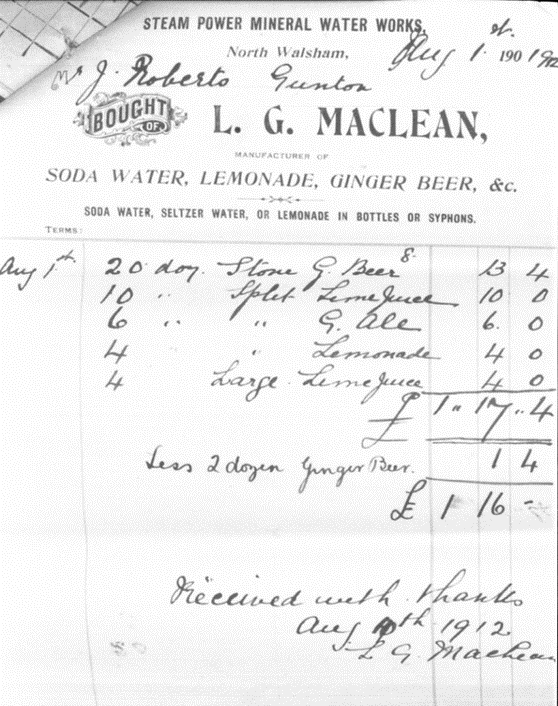 Laurence George MacLean (note his changed spelling of the surname) continued trading as a mineral water manufacturer well into the 1930s.  In the Kelly's Directory for Norfolk, 1937, he is listed as a mineral water manufacturer at 5 Market Street, North Walsham.
But in the early 1900s he also had the photographic studio, advertising, 'Artistic Photography.  Portraits copied to any size & coloured in oil, water colour or crayon.'  He was still advertising himself as a Portrait and Commercial Photographer in the 1927 town handbook, 'The Residential Attractions of North Walsham and District.'
Laurence had married Selina Dixon (daughter of James Dixon, innkeeper, Wherry Inn, Royston Bridge) and their son George was born on 15th August, 1903, weighing just 3lb 9oz.  Upon his birth, the only advice his anxious mother was given was to cuddle him! 
Laurence McLean with a prototype bicycle, taken by J. McLean
George survived, becoming 6ft 2in and athletic.  He played cricket, football and hockey, and was a well known cyclist.  He had a greengrocer's shop in North Walsham.
Vera McLean (daughter of George and grand-daughter of L.G. MacLean) says this of her grandfather. "He used to take snuff and rode a trade bike until he was 82.  He could often be seen "helping" my dad in his shop and he died when he was over 90."