Origins
William Crane set up a Blacksmith's shop in the village of Great Fransham in Norfolk in 1865 and went on to develop a new type of horse rake, cart wheels and farm wagons. Later with his two sons, the business expanded further and was registered in the 1883 White's directory as 'William Crane – Agricultural implement maker, joiner and builder, blacksmith and wheelwright'. His big breakthrough came during the Boer War when he won a contract for the manufacture of gun carriage wheels. After the 1914-18 war, Cranes began to build trailers. In 1929, when Guy Crane first joined the firm, it produced its first trailer for Pickfords, capable of taking 100-ton loads. It then seemed the ultimate in trailer production.
August Charles Fruehauf was born in Fraser, Michigan. He began his career as a Detroit-area blacksmith and carriage builder. In 1914, a local businessman, Mr Sibley, him to build a trailer which could be towed behind a Ford Model T and transport a boat to upper Michigan. Fruehauf successfully built the device, and Sibley requested he build additional trailers for use on his lumber yard. These became known as semi-trailers and proved popular. In 1918, he incorporated his business as the Fruehauf Trailer Company.
In 1961 Cranes (Dereham) Ltd formed a partnership with Fruehauf International Ltd. as Crane Fruehauf Ltd.
North Walsham factory
In the early 1960's Crane Fruehauf decided that they needed an additional factory to maintain their output of vans and trailers, and to increase the flexibility of their manufacturing base. North Walsham was chosen because it was a substantial town with a pool of available labour, mainly redundant farm workers. There were also existing engineering firms in the town. Later, vacancy notices outside the works attracted the attention of people from the Midlands holidaying in the area; this produced a small crop of men with special engineering skills who were provided with houses by the Town Council. Another source was the RAF; many finishing their time settled in the area and provided the basis of the Quality Control Department. Strangely, one of the town's assets appears to have been overlooked – the mainline railway connection. It is known that the initiative for moving containers by rail came from the very top of the British Railways board.
The factory, built in conjunction with Wall Engineering Ltd, opened in early 1962 with a 7-man team from Dereham. Other workers were recruited from the local area and by the end of the year the labour-force had grown to 36, producing trailers and vans.
In 1963 Basil Day was appointed General Manager. The workforce grew to 70 and the output to 4 trailers and 1 van per day. In the following years the factory expanded by adding 60ft wide bays on the side, ultimately 5 bays plus a large building on higher ground housing the Stores and Rhodes Press.
Containers
In 1962 the first modern containerships were built, and in 1965 the first containers were constructed to Fruehauf designs at North Walsham. The first order from Overseas Containers Limited (OCL) was placed in 1967 and in 1969 Seatrain placed an order for 3,400 x 40ft dry freight containers, which was more than the total UK production in 1968. During this time there were periods of double shift and occasionally triple shift working. By October 1972 the labour-force had grown to 800 and a particular milestone was the handing over of the 20,000th container to OCL. During this period peak production was 200 units per week. It is thought the last containers were built 1981-2.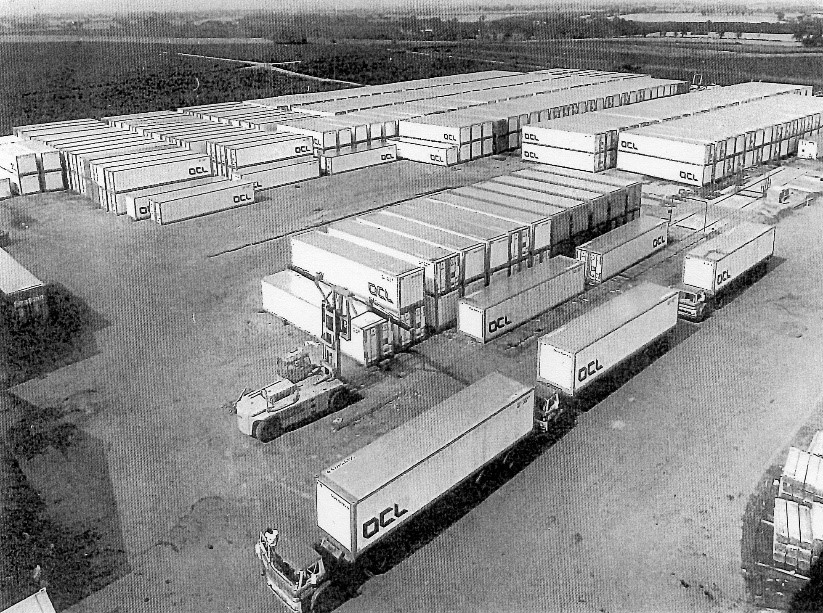 Prior to 1970 all container deliveries to the ports were made by road. Initially, some containers were delivered to Great Yarmouth, the route being Greens Road, Aylsham Road, Market Street, King's Arms Street, Grammar School Road, Yarmouth Road. Later much of the output was delivered to Felixstowe. By starting at 6am it was possible to do two runs in the day, provided unloading was prompt. This was quite an achievement in the days before the Orwell Bridge.
However, a major change occurred in April 1970 when the first despatch by rail was made for Can-Pac to Garston near Liverpool. The train consisted of 15 x 60ft wagons, which carried 45 x 20ft containers. On occasion two trains per day could be loaded, carrying 45 x 20ft or 15 x 40ft containers.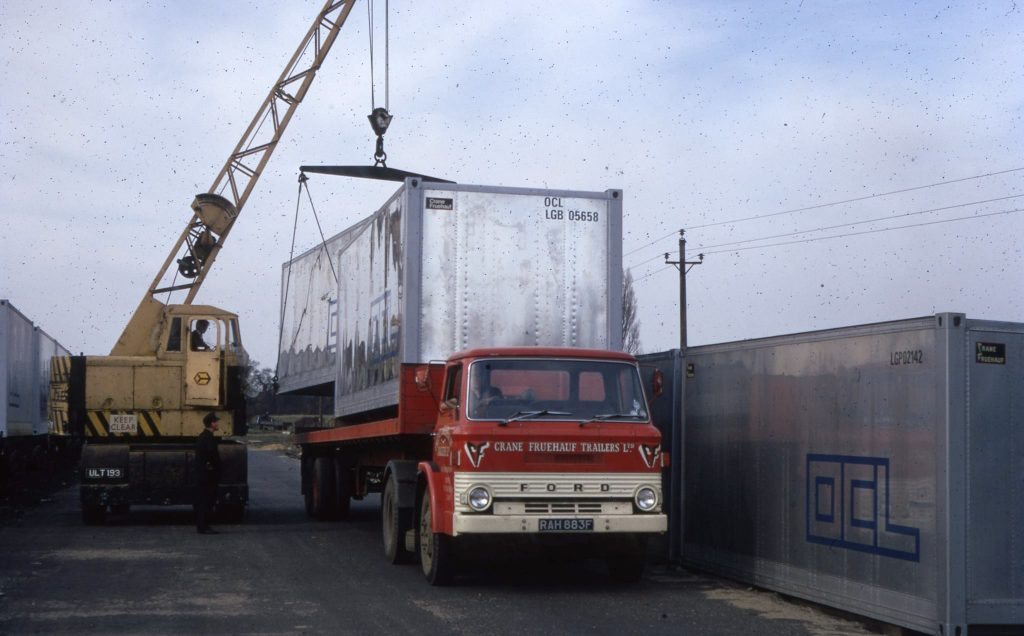 Trailers
These were insulated containers with a recess in the front wall which housed a refrigeration unit. The first examples were made in 1968 using slabs of insulation material. This process moved up a gear in 1970 when the urethane foam plant opened in the specially built 6 bay. This equipment worked well, producing 8-10 units per shift, until 1980, when it was suddenly dismantled and shipped to Fruehauf France. This spelled the end of Reefer production although refrigerated vans were made using alternative methods. For the duration of Reefer production 1 unit in 50 underwent a 'butter test', in which a pack of unsalted butter was halved with one half left unpacked in the container for 5 days. The two halves were analysed for tainting. There were never any failures.
The last new product was the curtainsider trailer which was only made at North Walsham. The curtains were supplied by Structureflex of Melton Constable.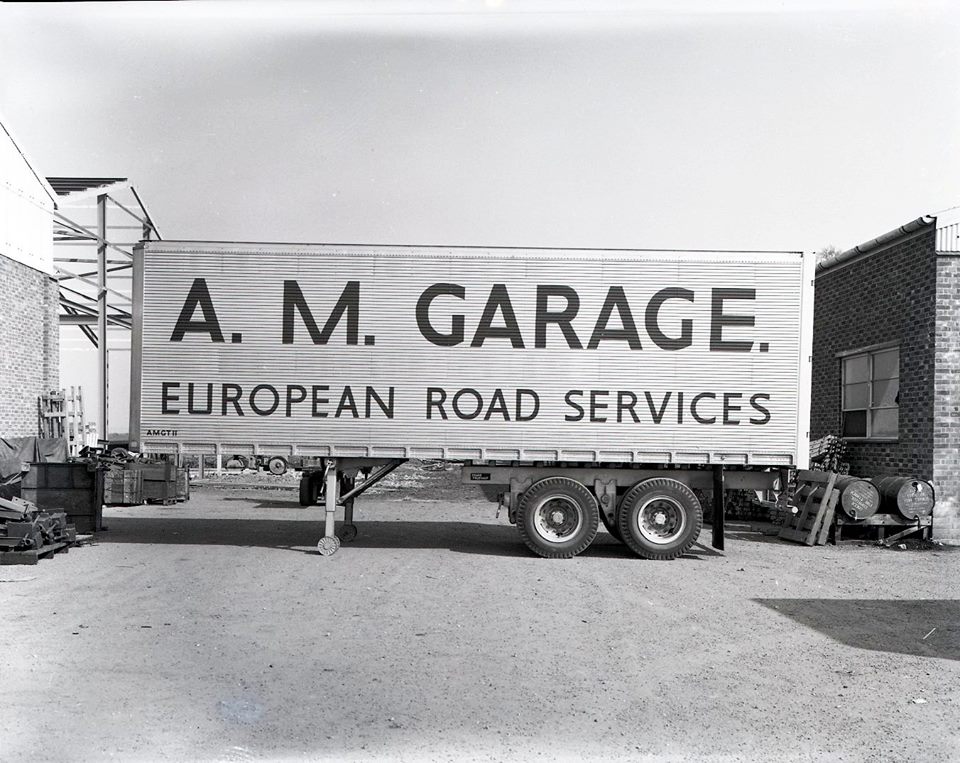 Decline
During the 1980s the workforce fluctuated but production of curtainsiders, platform trailers, and vans continued until July 1999. The final labour force was about 100, of which 50 were offered jobs at Dereham, some of these working there until that in turn closed in 2003.